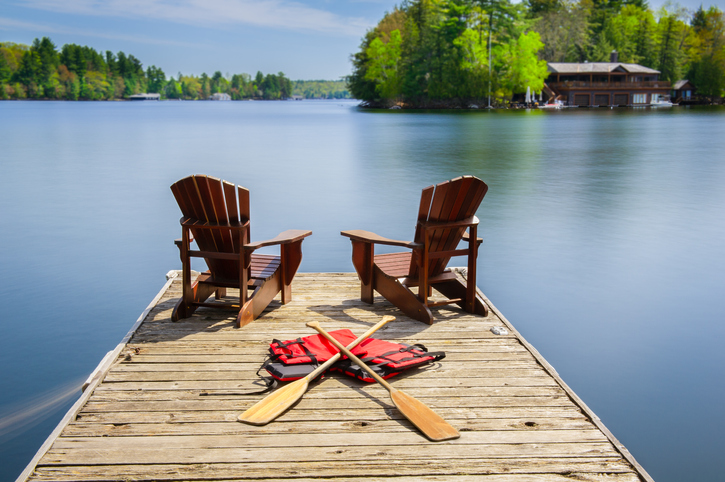 Owning a lake house means coming home to gorgeous views and a peaceful atmosphere unlike any other. A lake home also offers privacy and all the health benefits that come with living near a freshwater source.
It's no surprise that these types of homes are coveted by many. If you're thinking of buying a lake home, here are key things to consider before taking the plunge:
Lake homes need a lot of care
Owning a home by the lake comes with the fairly common challenges that water and weather conditions bring. Home features such as pipes, roof, siding, and attachments need to be regularly maintained or replaced. You'll also have to think about ways to protect your home and the structures found in your property from the elements.
Be prepared for the expense
Drill down. Find out if the lakefront home you like is subject to higher property taxes. Also consider the cost of living, the licenses you have to obtain, and the additional insurance you need to take out to protect your home against flood and windstorms. Consider all the hidden expenses before finalizing your purchase.
Determine your return on investment
Lakefront homes have proven to be great investment opportunities because homes by the water tend to retain or increase their value over time. Even in tough markets, lake homes maintain their value because available waterfront homes are limited.
It takes longer to process loans on lake homes
A loan for a waterfront property takes longer to process than traditional homes because lenders will want to make sure you can afford the mortgage payments on a pricier piece of property. If you're looking to get a mortgage pre-approval on a lake home, start shopping for loans at the earliest possible time to avoid delays. Getting a pre-approved also helps you set a budget and narrow down your options.
Make sure the lake home fits your lifestyle
Figure out your ideal lifestyle before you start searching. Are you looking for a place where you can indulge your love of sailing and fishing? Do you prefer the peace and quiet of a more secluded location? Determining what you want out of your lake home makes it easier to find one that suits your needs.
If you're looking for the best lakefront living with great views, a serene atmosphere, and plenty of water recreation, Lake Greenwood offers residents peace and solitude with miles of beautiful shoreline and pristine waters perfect for any water activity.
Look into the neighborhood
Just as you want a waterfront property that suits your lifestyle, you'll need to buy into the neighborhood as well. Are the homes in the area mostly rentals or owner-occupied? Are the facilities designed with retirees or younger people in mind? And can you live with local ordinances that regulate the use of the lake – like boating hours, waterskiing restrictions, or shore fishing regulations, for example.
Inspect the lake home and its surrounding structures
Because lake homes are subject to more wear and tear, make sure the home and surrounding structures like the dock and boathouse are in good condition. Hire a home inspector that specializes in lakefront homes to find out if there are issues concerning the property. A good inspector will be able to tell you how well maintained the property is and if it can withstand its environment.
Find out the condition of the lake itself
Not all lakes are the same. Before settling on a lake home, make sure the lake itself is in pristine condition by checking the water quality, depth, and the like. You should also find out what activities you're allowed to do in the lake. It's best to find out how accessible the lake is to your property as well.
What are the zoning rules and neighborhood associations like
Look into the area's zoning rules to find out what you can and cannot build on your property. Learn which permits you need to apply for before you build docks, boat slips, and the like. You should also check out the community's homeowner or lake associations. Look into the set of covenants, conditions, and restrictions that every owner in the neighborhood must abide by.
Choose the right real estate agent
Before shopping around for your perfect lake home, you should first choose the right real estate agent. Find someone local who specializes in lake homes or waterfront property. They can guide you through every step of the home buying process. They can also answer all your questions about the property, the area, local restrictions, and the like.
Ready to buy your lake home? Get in touch with local lakefront experts at The Wiley Team and let us help you explore great Lake Greenwood lakefront properties for sale. Give us a call today at 864.993.8153 or send an email here.