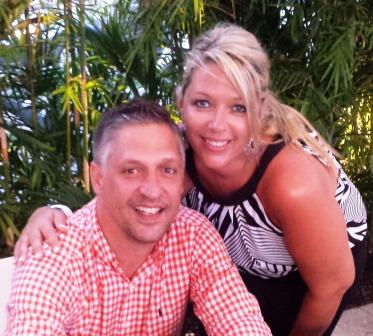 Local Realtors to be Featured on HGTV
Although the real estate market has suffered over the last several years, 2014 marked a glimmer of hope that the economy would bounce back and was capped off for Jonathan and Tonya Wiley with the filming of a television episode that will be aired on Mother's Day.
"The process was long and difficult," Tonya Wiley said of being selected for the show. "It was worth it, though. This is a chance for the entire world to see how wonderful Lake Greenwood and Greenwood County is."
The show is Home and Garden Televisions' Lakefront Bargain Hunt. The show is currently airing its second season of showing house hunters how to find the lakefront property of their dreams without breaking the bank. The episode featuring the Wileys will air May 10 at 8:30 p.m.
Lakefront property is something Tonya knows well, having sold the most volume on Lake Greenwood every year since 2006. As she entered the real estate market, Tonya wanted to focus solely on lake properties. She was advised against the idea by many, but, undeterred, she pressed forward. According to Jonathan, his wife saw an opportunity and seized it.
"She recognized a gap in the market," Jonathan said of his wife. "She created a marketing plan and executed that plan. There's a real sense of pride looking back on it now."
Tonya noted that selling lakefront properties was challenging early on and only got harder when the recession hit in 2007. More often than not, prospective buyers of lakefront property are not from Greenwood. In spite of the impact from the recession, Greenwood's growth and lifestyle have made it much easier in the last couple of years.
"We are out here competing against every lake in the southeast," Tonya said. "We not only have to sell the property itself, but we also have to sell Greenwood. Many of our clients have no ties to where they are house shopping so they are just looking to find the perfect total package. We feel like we have the best total package right here in Greenwood."
Wiley and her husband now operate as a team, though that was not always the case. Tonya entered real estate while pregnant with her first child in 2005 with the idea of doing it part time. Jonathan continued working at a local manufacturing facility until 2007 when he became the Director of Supply Chain at a local firm. Jonathan left the company in 2010 when the company filed for bankruptcy and was working as an independent sales representative. He was working part time in the real estate field and the job as a sales rep required extensive travel. With a wife and children at home, as well as Tonya's successful real estate business, the Wileys made the decision to begin working as a team in real estate.
Through the lean years, and even with as much as a 30% drop in sales on the lake, the Wileys forged a dynamic partnership that has allowed them to excel once again, with 2013-2014 being one of the best years since 2008. They expect 2015 to be even better.
Now, Jonathan mainly handles the clients looking to buy property and Tonya mainly handles the marketing aspect of the business as well as clients who are selling properties. The Wileys often work with their clients for over a year in selecting the perfect property. Even after the deal is closed, the Wileys continue their relationship with their clients as friends. It is not uncommon to find Jonathan making his rounds picking up mail or meeting contractors for clients who are out of town.
The Wileys were as surprised as anyone when New York-based Magilla Entertainment reach out to them with the prospect of filming an episode on Lake Greenwood.
"I didn't think it was real at first," Tonya said. "I got an email from someone at the show and replied telling them to call me immediately if it was legitimate. Jonathan came walking into the room a couple of minutes later with a confused look on his face saying someone from HGTV was on the phone. We didn't know that was the beginning of a long process."
Over the next several months, Tonya had to do something very familiar – sell Greenwood. She had to convince the producers of the show that featuring Lake Greenwood would be better than other lakes across the southeastern United States. It was a task she was up for.
"When I make up my mind want to do something, I don't let it go," Tonya said. "I had to make it impossible for HGTV to not choose Greenwood."
Tonya set about that mission and spared no effort, even personally purchasing a drone to take aerial footage of the lake.
Once she convinced HGTV to feature Lake Greenwood, she then had to find a buyer that met the show's criteria. The buyer had to have purchased their property in the past 12 months, the value of the property had to be less than $350,000 and the show hoped to feature people other than retirees.
Eventually, the show decided on David and Janet Gregg, who purchased a home on Apache Drive in Waterloo.
Television crews arrived for a week of filming in November and got footage from all around Greenwood, including at the Links at Stoney Point and Uptown Greenwood.
According to Jonathan, the television producers were just like prospective buyers in one regard. If they come to Greenwood, Jonathan believes he can sell them on the quaint southern town.
"If we can get people here, 90 percent of the time I can sell them on Greenwood," Jonathan said. "There is a lot more focus on Lake Greenwood and its potential as an asset for the entire area. This show will promote Greenwood to thousands of people who may have never even heard of Lake Greenwood. It's a great opportunity to showcase the whole area."
Boating Safety Forums Project Report (PDF)
SC Title & Registration Requirements
S.C. Law prohibits the sale or purchase of watercraft without a valid title issued in the seller's name to assign over to the purchaser at the time of sale.
The following are required to have current title and registration:
All motorized boats and watercraft; except *exempted vessels;
All sailboats are required to be titled
All outboard motors five (5) horsepower and greater are required to be titled since July 1, 1974.
*Exempted Vessels – documented vessels, windsurfers, watercraft (canoes, kayak, etc.) propelled only by human power with oars, paddles or similar devices.
Got a question? Contact the DNR Boating Section at 803-734-3447.