The Wiley Team are committed property advisers with the training, experience, professionalism, and drive to provide marketing and services tailored specifically to buyers and sellers in the Greenwood and Lake Greenwood Region. Although the team represent clients in all areas and price ranges, they specialize in selling lake, golf, and luxury homes and have extensive experience in representing clients nationwide who are relocating, retiring or investing in the area. They are not just selling real estate, they are selling a lifestyle. As proven specialists, they offer local market experience and unmatched marketing techniques. They have uncompromising standards for excellence in marketing, customer service and attention to detail. Call The Wiley Team for all your real estate needs.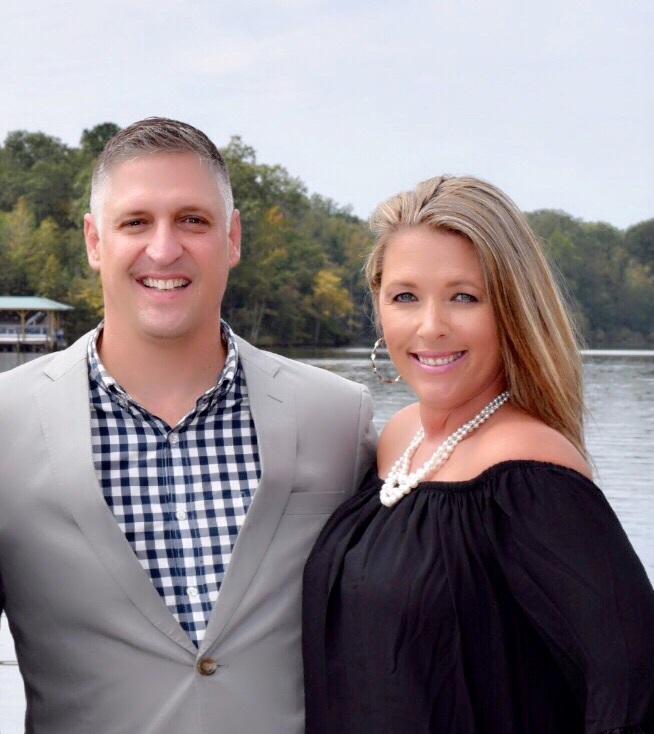 Jonathan and Tonya Wiley
Tonya and Jonathan Wiley
Tonya and Jonathan Wiley are a husband and wife team who live and work on Lake Greenwood full time. Tonya is a lifetime resident of Greenwood and is a 2 year cancer survivor and 7 year stroke survivor! Jonathan is from Columbus Ohio and is an Ohio State Graduate who relocated to Lake Greenwood in 1994. They live on Lake Greenwood with their 3 children. They truly enjoy "living the lake life" and they share that personal experience with their clients.
Tonya Wiley, a name now synonymous with Lake Greenwood real estate, started the Real Estate business in 2005. Her husband, Jonathan Wiley, joined her a few years later after the business skyrocketed, forming one of Greenwood's most successful husband and wife real estate teams. They made a fast rise to the top by focusing primarily on selling property on Lake Greenwood, believing that the more people knew about Lake Greenwood, surely they would chose it over other popular, but often more expensive, lakes in South Carolina. This go getter attitude and a savvy eye for marketing has allowed The Wiley Team to remain the top selling agent of Lake Greenwood property every year since 2006. They have sold more property and total sales volume than any other agent for the last 11 years. As the Top Producer on Lake Greenwood areas every year since 2006, their numbers speak volumes. They have sold hundreds of lake properties and know all the ins and outs of buying and selling on Lake Greenwood. They know that property values can vary greatly depending on water depth, water views and location on the lake. If you are moving here from another area, it's crucial to work with someone who can educate you and help you protect your investment.
Tonya and Jonathan also believe in giving back and supporting the local community. They actively support the Self Regional Healthcare Foundation as a member of the Madame Curie Society with yearly support and donations. They sponsor Connect Lake Greenwood in numerous events throughout the year. They support the Children's Miracle Network hospital by contributing a portion of EVERY transaction and have done so since 2009. Tonya and her husband sponsor several Youth Sports Teams at the local YMCA each year as well as Traveling Youth Baseball League Teams. They are also active members of the local Chamber Of Commerce. In addition, they make regular donations to many local charities, no-profits and families in need throughout the year.
In 2017 Tonya met the rigorous requirements and received her Accredited Luxury Home Specialist Designation. She was the only Accredited Luxury Home Specialist in the Greenwood area as of June 2017.
Angel B. Cockrell, "The Real Estate Angel" is a licensed Realtor with years of experience in banking, buyer and seller representation and new construction. Angel worked in the banking industry for 8 years before starting her career in real estate 11 years ago. She is a seasoned agent known for her integrity, diplomacy and sincerity in all her dealings. She has built a reputation for her refreshingly friendly customer care and proven ability to guide and help individuals and families with all their real estate needs. She shines when it comes to providing peerless customer service and skills that continually impress all of our satisfied real estate clients. She built a solid foundation and worked an array of transactions throughout her career. As a self described "House Girl", she enjoys meeting buyers and sellers and helping them throughout the home buying or selling process, which can be a stressful endeavor. Angel offers personalized guidance, tailored to meet the needs of our clients. She is a Native of Greenwood and has lived both in town and on the lake. She lives with her husband , Jeff Cockrell, and sons Jeremy and Ryan Cockrell. She enjoys spending time with her family, traveling and her favorite place to be is sitting on any beach.
Carla Fryer
Office Manager
Carla Fryer is a licensed Realtor and Administrative Manager. She has years of experience in banking, transaction management, and representing buyers and sellers. She worked in the construction/design field for 6+ years and the banking industry for 2 years before beginning her career in real estate 5 years ago. Carla is well known in the real estate industry and brings a unique background of experience and training to the table. She excels in navigating the complicated terrain of transaction management and more. Her impressive attention to detail and ability to provide exceptional service makes each transaction as seamless and successful as possible. She shares the same commitment to top notch service and social values and provides the highest level of support to the team and to our clients. Carla lives in Greenwood and enjoys spending time with family and friends, traveling, and decorating.