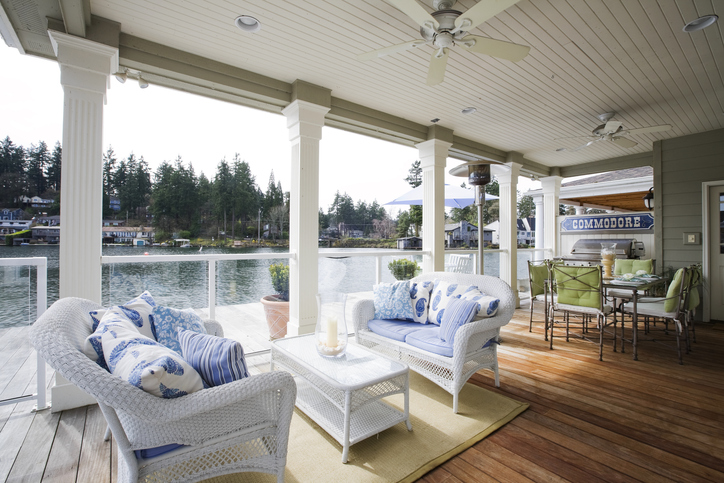 Lake Greenwood properties are located along South Carolina's most stunning lake. Here, you are blessed with a residence that allows you to relax, unwind, and enjoy what nature has to offer.
As a lakefront property, your Lake Greenwood home's interiors should complement the majestic views outside it. Here are 10 great ways to do so:
Go for a certain style

Choosing a decorating style for the entire home helps in making each room look cohesive and connected. Popular designs for lake house interiors and exteriors are rustic, country, modern, and mountain cabin styles.

Rustic styles are characterized by distressed furniture, braided area rugs, and wood and metal combinations. They also make use of mission-style lighting and various metal sculptures around the home.

A country look, on the other hand, has wide, wooden planks for flooring and old-fashioned lighting fixtures. Mountain cabin styles have a similar look, except with more wooden elements and various trout, bear, and fishing-related décor.

For a more modern look, wooden modern furniture and pendant lighting will do the trick. Solid colors are used throughout the home, along with chrome and glass decorations and finishes.

You also don't need to stick to one style. Combination designs like rustic cottage styles also work very well together.

Paint the walls white

White walls make a great background for any home, especially for properties that are right by the water. White is simple, versatile, and exudes a sophisticated feel.

Use a softer color palette

When it comes to decorating your Lake Greenwood property, the main focus should always be the waterfront view. That's why you should use a softer or more neutral color palette for your paint and fabrics. Colors that come in shades of cream, beige, grey, and soft blue are great examples of the hues that should be used.

Add a pop of color for contrast

Complement the dominating soft or neutral palette with a bright-colored decoration. Whether it's a bright accessory or a colorful rug, adding an accent color can transform your Lake Greenwood house into a stylish space.

Rearrange your furniture

Maximize your Lake Greenwood property by arranging your furniture to take advantage of the view. Big furniture pieces such as couches and chairs should be pointed toward the direction of natural light. You can even rearrange your bed in such a way that the foot side is pointed toward the window. This way, you can open your eyes every morning to the wonderful sight of Lake Greenwood's sparkling waters.

Add pillows and blankets

Pillows and blankets bring another layer of style to your home's interiors. Aside from giving your home plenty of personality, they also give your lakefront property a cozier feel. Pillows and blankets can be placed on various surfaces, such as sofas, chairs, benches, stools, and even baskets.

Mix and match different textures and patterns

Combining different textures and patterns may seem confusing at first, but once you learn how to mix and match, your Lake Greenwood home will be eye-catching in no time. Start small by experimenting with your throw pillows. Search for a pillow pattern or design that complements at least one or two colors of the sofa, chair or walls.

Upgrade your lighting fixtures

The right lighting can improve and enhance any room. But before you choose a specific lighting fixture, you need to know the mood you want each room to evoke. The living room, for example, requires an assortment of lighting such as ambient, accent, and task lighting. Pendant lights, wall sconces, and lamps are great examples of light fixtures you'll need for this particular room. Just make sure that each fixture complements the style of that particular room.

As for the outside area, the best outdoor lighting for waterfront homes is the kind made out of solid brass and copper. Unlike iron, steel, and aluminum, light fixtures of these types rarely rust, break down or corrode.

Keep the windows free of curtains or drapes

Take advantage of the spectacular Lake Greenwood view by removing the curtains and drapes from the windows, especially the ones by the kitchen, dining, and living room. This will put your home's water frontage as the main focal point of the house.

Add potted plants to your outdoor area

Enhance your outdoor area by adding potted plants throughout the patio or deck space. They're attention-grabbing and they give small pops of color around the area.
The Wiley Team is the top team of real estate agents to call when it comes to buying waterfront properties in South Carolina's Lake Greenwood. Learn more about available properties here by giving us a call at 864.993.8153 or sending an email here.